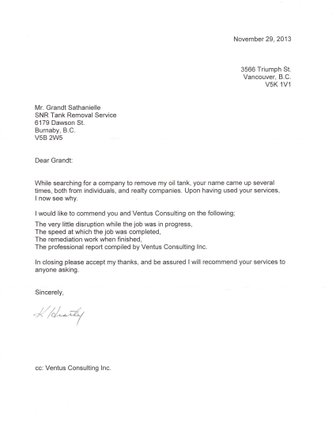 "Thank you Ventus for a job well done. We would certainly recommend your company to anyone wishing the soil analysis to be done…"
"…While searching for a company to remove my oil tank, your name came up several times, both from individuals and realty companies. Upon having used your services, I now see why.
I would like to commend you and Ventus Consulting on the following:
The very little disruption while the job was in progress.

The speed at which the job was completed.

The remediation work when finished.

The professional report compiled by Ventus Consulting Inc.
​
In closing please accept my thanks, and be assured I will recommend your services to anyone asking…"
"To whom it may concern,
I am writing this letter as a glowing reference for the professionalism and integrity of Joe Davis.
Mr. Davis conducted an Environmental Report for my property under considerable time pressure, and completed it in a highly professional and timely manner. In addition, he went out of his way to complete the work...in order that the job was signed off…"